We started out with few expectations. We were able to find a few suggestions online, but nothing too extensive. So, we left it open to pure adventure, and that is exactly what we found. Louisville has an incredible and emerging eclectic sub-culture, charmingly paired with a compelling history. All of it embraced by its quirky creative scene and overwhelmingly hospitable people. We were so intrigued with this amazing medium-sized city with big-city dreams, that we had to prolong our stay an extra two nights. Here's a recap of some of the highlights (and many there were) of our experience in Louisville, Kentucky.
WHERE TO CRASH
Stay at the BROWN HOTEL, where the bell hops will greet you with a trade-mark southern charm and beaming smiles. The architecture in this 1920s Historic Hotel of America is marvellous and wow, if these walls could talk. Every corner of this elegant building practically projects scenes of flapper beauties and dandy southern gentlemen sipping on old-fashioneds and negronis.
After a night or two of feeling like a 1920s socialite, switch it up and move your bags to the 21-C MUSEUM HOTEL. This is one of those hotels that you could potentially never leave the entire duration of your stay and still be more than satisfied. The hotel came to be through an extensive renovation of a multitude of 19th-century tobacco and bourbon warehouses along downtown Louisville's West Main Street. A boutique hotel AND contemporary art museum. On every level, around every corner, in every room and even through most windows you can find beautiful, intricate and thought-provoking modern art instalments. It truly is a one of a kind experience that we had never before encountered from a hotel. Are you wondering about the enormous golden recreation of the statue of David right outside? Yes, Louisville is indeed weird, and it's awesome.
DOWNTOWN
Skip the 200m tourist trap that is Fourth Street Live and head directly to PROOF ON MAIN inside the 21-C for an amazing dinner, where chef Michael Paley's menu won't dare disappoint or leave you hungry. If you don't start with the charred octopus and finish with the banana split, then you're doing it all wrong.
Be a tourist one afternoon and walk down to the LOUISVILLE SLUGGER MUSEUM where you can watch the iconic bats get carved, and even get a personalized one etched right on the spot. After, slide into the MUHAMMAD ALI CENTRE where you'll find an entire city's tribute to The Great.
Just across the street from the 21-C you'll find the EVAN WILLIAMS EXPERIENCE; an artisanal distillery, and bourbon tour and tasting like no other. It celebrates the legacy of Kentucky's first distiller and namesake of Heaven Hill Distilleries flagship Bourbon brand. Not to mention all right in the exact location where the original distillery stood in the 18th century. If you're lucky you'll get the hilarious and knowledgeable Pam as your tour guide, who's been working at Heaven Hill for two decades.
After you've worked up an appetite from the sweet teaser of bourbon and all the touring, head across the street to ATLANTIC NO 5. A great spot for a light lunch, snack, or delicious coffee to get your jets rolling on all cylinders again. This awesome little spot is also perfect for a quick breakfast - the breakfast sandwiches with cured ham are amazing. We ordered two each, every time.
NULU - NEW LOUISVILLE
We woke up on a Monday morning starving. After some research, NuLu, was going to be the part of town where we ate until we hated ourselves. This up and coming, newly revitalized part of Louisville is home to modern art galleries, specialty stores, antique shops, and amazing local restaurants. With every step eastward, we started to fall more in love with the city. The restaurants, stores, and homes started to reveal themselves one at a time, and they were leading us to DISASTER! Nobody warned us that everything in NuLu would be closed on a Monday. So hip - shedding the capitalistic stereotype of their forefathers. We walked and walked and finally, with hanger (hunger-induced anger) building in our stomachs, inquired at a cute local home interior store called SCOUT that happened to be open.
The shop owner suggested we try the MAYAN CAFE down the block. This is exactly where we succumbed to sweet tea addiction. After what seemed like a few gallons, it was undoubtedly running through our veins. The symptoms and craving of sweet tea withdrawals followed us for the entire trip. But back to the meal, what a gem we stumbled across, on a day that we thought would end terribly and with empty stomachs! Chef Bruce Ucan is a native of the Yucatan Peninsula, and his traditional cooking techniques make up this adventurous menu. The Yucatec Salbutes are a must try! We went with the grilled cactus and mozzarella, black bean with queso fresco, and shredded rabbit with pumpkin sauce. To die for. Next up, was the Huevos Motulenos, a traditional Yucatan breakfast dish with fried eggs over refried black beans and fried plantains on a fried tortilla, topped with salsa, chorizo pork sausage and crumbled queso fresco, with a tomato casero sauce. Still drooling reminiscing.
We didn't let the whole, everything in NuLu is closed on Mondays thing deter us from making our way back midweek. We came across an awesome cafe we fell in love with. PLEASE AND THANK YOU is a delicious curation of amazing coffee, treats, and records. They pride themselves in offering the best chocolate chip cookie ever, and we might have just walked away convinced. It's also a record store, with an intimate listening lounge near the back adorned with vintage schoolhouse furniture and decorations.
For some evening fun, GARAGE BAR is a must. The joint's name isn't some hipster attempt at making a mediocre place sound avante-garde. This place is a restaurant-bar calling a former auto service garage home. The restaurant serves up pizzas from a wood-fired brick oven, seasonal cocktails, and an array of local craft beers. All to be enjoyed during a beer-induced game of ping pong on astroturf covered seats. The Lavender Honey Vodka Lemonade is killer tasty too.
THE HIGHLANDS
The eclectic epicenter of Louisville. This laid back and thriving, boho-esque neighborhood relishes in its weirdness and it isn't letting it fade any time soon, or ever. In the Highlands, you can find a bar within a former church, the massive and historic CAVE HILL CEMETERY being used as a beautiful park known as CHEROKEE PARK, and multi-million dollar homes dating back as far as the cemetery itself. In every shop window, painted along streets and decorating brick walls you're sure to find the Highlands' slogan, "Keep Louisville Weird" screaming loud and proud. Begin your journey through the awesomeness of this borough by beginning at Bardstown Rd. and walking all the way through to Baxter Ave. Pop into whatever weird little storefront catches your eye. You'll be sure to go home with something unique.
One could walk up the main stretch of the Highlands and make a restaurant crawl out of it starting at breakfast and ending for late night eats. You still wouldn't be able to stop into every food joint you'd like to. The options are boundless. If you haven't gotten the idea by now, Louisville is a foodies mecca, with every restaurant doing their own take on locally sourced and grown ingredients. Hit EL CAMINO, for incredible fish tacos, even more incredible tequila and a So-Cal inspired design and feel. If you happen to be craving some pizza that just gets it, ZA'S PIZZA PUB is the spot. Deep, greasy and right on the spot.
The Highlands has some of the best boutique and vintage shops around too. From DOT FOX to HEY TIGER! and everything in between, the style here is all about being your unique self. You'll never find more than a few available selections of each item. This neighbourhood is the ultimate cool kids boulevard.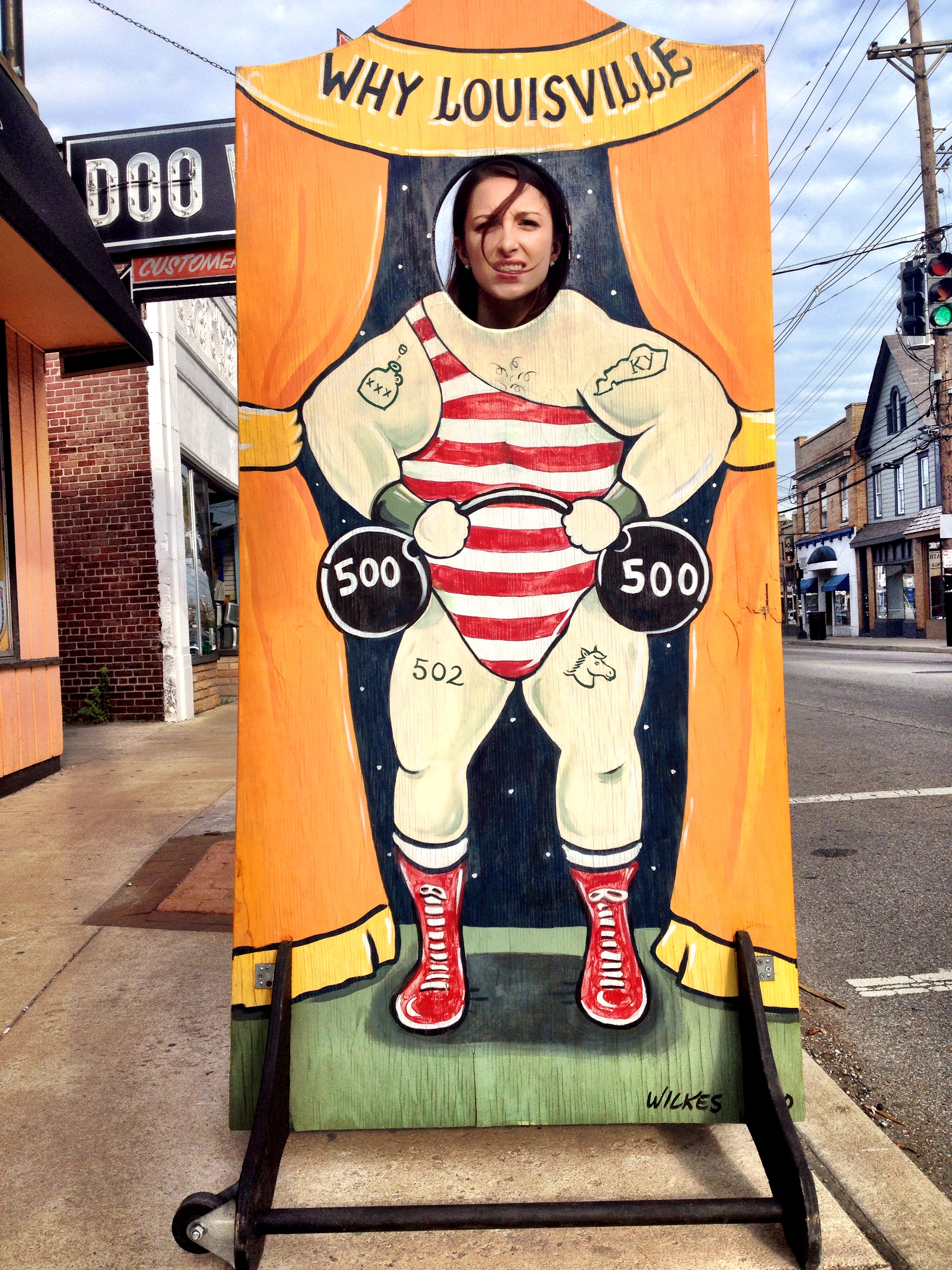 FRANKFORT AVE.
One thing to mention about Louisville is that when someone gives you directions and approximate time of arrival, it's almost never assumed that you'll be walking! Louisville is very spread out, and was actually only amalgamated a few years ago. So, generally everybody drives or bikes to where they want to go. We learned this the hard way when our server at El Camino raved about their sister restaurant THE SILVER DOLLAR. We had heard about it before, and knew that it had continuously been named by various publications as one the best restaurants and bourbon bars in the country. We HAD to visit. So our lovely bartender sent us on our way with thorough directions and said that it was about 15 minutes away. Little did we know, until about half an hour later and wondering if we had made a wrong turn into Sketchville that he likely assumed we'd be cabbing. We never made it to The Silver Dollar that night, but tried again on our last evening in Louisville. This time we rallied up a reliable UBER for the escort. Everything they said about this place was true. The Bourbon selection was endless, including its own house selected single barrel, created for and sold uniquely by The Silver Dollar. The menu is sinful, a modern take on traditional working class dishes with a deep southern California influence. Must eats are the chicken and waffles, fried oysters, mac n' cheese and falafel burger. If you're really feeling like a champ, and that we did, The Ultimate doesn't shy away - two patties with American cheese, BLT, dill pickles, and all in between TWO GRILLED CHEESE SANDWICHES.
Though we were short on time when we finally made it to CRESCENT HILL (the area that surrounds Frankfort Ave) we did get a chance to walk around a little bit. If you're one to love the Boho weirdness of the Highlands, then you won't be disappointed by Frankfort Ave. The restaurants and bars are endless, the vintage shops a plenty, and the quaint old homes just pissing with character. You might even enjoy it more, as it's not nearly as zoo-like as the Highlands.
To browse more photos from our incredible experience in Louisville, search the hashtag #RoadtoRoo2014.